Protecting our environment with sustainability and responsibility
Our corporate offices, factory remediation efforts, and product manufacturing processes are all guided by a commitment to minimize environmental impact and maximize sustainability. That commitment manifests itself though efforts to minimize water, energy, and materials wastage for
every product we make.
Fully traceable and transparent
We share the traceability and sustainability performance of each of our products to drive positive change and meet consumer demand for true transparency in fashion.

All of our sustainability claims are supported by the most respected third-party certifications, as well as by studies we have conducted using LCA (Life Cycle Assessment) methodology.
OUR CERTIFICATES
In order to ensure the claims and the fair tracea bility of our clothes, We are GOTS, OCS, GRS and RCS certified.

GIOBAL ORGANIC TEXTILE STANDARD

GaTSGOTS was developed through collaboration by leading standard stters with the aim of defining requirements that are recognized world-wide and that ensure the organic status of textiles from harvesting of the raw materials through environmentally and socially responsible manufacturing all the way to labeling in order to provide credible assurance to the consumer.
Learn More...
GLOBAL RECYCLE STANDARD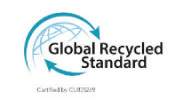 It is a holstic certification for products with recycled content. The desired effect of the GRS is to provide brands with a tool for more accurate labeling, to encourage innovation in the use of reclaimed materials, to establish more transparency in the supply chain, and to provide better information to consumers.